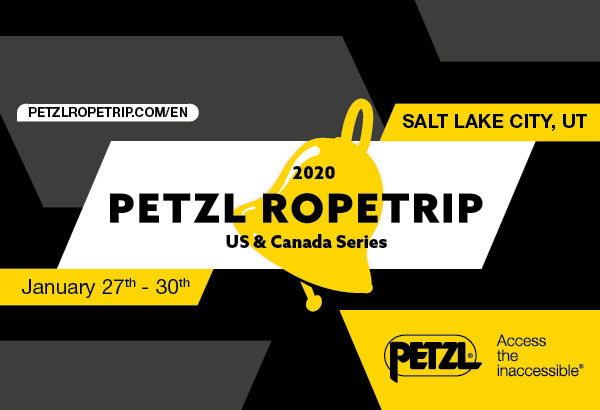 Save the date for the 2020 Petzl RopeTrip U.S. and Canada Series Rope Access Challenge. Scheduled for January 27-30, 2020, this U.S. and Canada series of Petzl RopeTrip will feature a rope access competition, symposium, and an optional two and a half day PPE Inspection training course. The event is open to teams from all nations.
Petzl America will sponsor the airfare and registration of the highest ranking team from U.S. or Canada that can attend the Petzl RopeTrip International Challenge in Signapore April 13-17, 2020.
Event Details
Dates: January 27 – 30, 2020
Competition Rules:  Teams must consist of three-person teams. Click here for a complete list of rules.

Petzl can help place individuals on teams

Cost: 

Team Competitors – $225 per team

Includes three lunches, two dinners, two days of competition and symposium

Individual Competitor – $75 per person

Includes three lunches, two dinners, two days of competition and symposium

Event Participant – $75 per person

Includes three lunches, two dinners, competition spectating and symposium

Competition Spectators -Free

does not include food/drink
does not include access to symposium

Optional Course: PPE Competent Person – $750 per person (Regular $1000; discounted rate for RopeTrip participants)

Includes 2.5 days of PPE training and two lunches
To Register, click here
---
7-Day Agenda
Monday, January 27, 2020

3:00pm Arrival, Registration, PPE Inspection, Skills Testing
5:30pm Welcome Reception, Speed Climb and Dinner

Tuesday, January 28, 2020

8:00am-5:00pm: RopeTrip Challenge- Qualifying Round

Wednesday, January 29, 2020

8:00am-12:00pm: Qualifying Round
12:00pm-1:00pm: Lunch
1:00pm-1:30pm: RopeTrip Challenge Semi – Finals Round 1
1:30pm-2:00pm: Phase Change- From Skier to Rope Access Technician, Presented by D'Arcy McLeish
2:30pm-3:00pm: RopeTrip Challenge Semi – Finals Round 2
3:00pm-4:00pm: Presentation Petzl TBD
4:00pm-4:30pm: RopeTrip Challenge Final Round
4:30pm-10:00pm: Award Ceremony & Dinner Reception

Thursday, January 30, 2020

9:00am- 4:00pm: RopeTrip Symposium Hands-On Clinics *see bottom of page for full clinic descriptions

Dynamic and Static Testing- "What if?"
Highline Reeve System
Anchor Systems
Artificial High Directional Stability
1:00pm-5:00pm: Optional PPE Competent Person Course

PPE course attendants have the opportunity to attend two morning symposium clinics *sign up on-site

Friday, January 31, 2020

8:30am-5:00pm: Optional PPE Competent Person Course

Saturday, February 1, 2020

8:30am-5:00pm: Optional PPE Competent Person Course

PPE course attendants- please do not depart Petzl until 5:00pm
---
Phase Change: From Skier to Rope Access Technician Presented by D'Arcy McLeish
D'Arcy McLeish is a Rope Access technician, ski patroller, mountain rescue specialist and all around master of all trades. Recently, he's undertaken the monumental task of leading Vail Resorts' lift evacuation program with the goal of creating an industry leading, company-wide standard across Vail Resorts 37 resorts.
Petzl Presentation- TBD
RopeTrip Symposium Hands-On Clinics:
Dynamic and Static Testing- What If? Presented by Jeremiah Wangsgard, Petzl Technical Information Manager
You may wonder how certain systems or equipment might perform within common rope access practice or in a worse case scenario. Many of these questions often revolve around rescue or more advanced rope access maneuvers. Our goal is to try to recreate some of these scenarios to address the "what if" questions with testing.
Highline Reeve System Presented by Micah Rush, Peak Rescue
Discussion and side by side comparison of commonly used reeve system for tensioned lines in Rope Access work. We will discuss pros and cons of various reeving options as well as situations where they are most useful.
Anchor Systems Presented by Keith Luscinski, Petzl Technical Institute Manager 
The concept of anchor equalization has been widely debunked in recent years, but constructing load-sharing anchors is still a crucial skill for rope access technicians. This clinic will allow participants to build multi-point load sharing anchors, and see how evenly they distribute an applied load: from hand-tight, to body weight to 1,800 pounds.
Artificial High Directional Stability Presented by Brian Cruikshank and Steve Crandall
The objective of the this clinic is to review the importance of assessing the applied, resultant, forces when using Artificial High Directionals (AHD) in the directional frame configuration. Reviewing some of the limitations of the systems and best practices when rigging AHD for edge transitions.
Optional PPE Competent Person Course Outline
Learn to competently examine work-at-height personal protective equipment using the Petzl protocol and to create an effective PPE-management system.
Curriculum
Risk assessment and associated decision making
Potential hazards associated with the use of PPE for protection against falls from height
Legislation and current requirements regarding the management of PPE
Definition of "competent person"
General principles and uses of PPE
Employer and PPE inspector responsibilities
Understanding a technical notice
Principal actions of the examiner: maintenance, returns under warranty, removal of products from service, etc.
Principal corrective actions: information to provide for the users and/or their management system
Necessary tools and work environment to efficiently perform PPE examination
Presentation of Petzl Technical Institute PPE examination protocol
Pre-use checks, special inspections, thorough examinations, signs and symptoms, significance of any defects, criteria for removal from service
Identify defects and damage which would result in the item being removed from service
Inspection reporting
---
Travel & Lodging
Salt Lake International Airport
776 N Terminal Dr, Salt Lake City, UT 84122
The Salt Lake International airport is located 4 miles from downtown Salt Lake City and 10 miles from the Petzl America Headquarters.
Transportation
Travel from Salt Lake International airport to Petzl America is less than 10 miles. We recommend using a rideshare option or public transit as the easiest option to and from. SLCIA also hosts a number of car rental companies and cab rides for those interested.
Uber – Lyft – Utah Transit Authority: Green Line – Cab – Car Rentals
Hotel Information
Petzl has reserved a room block at The Staybridge Suites. Petzl America is a 10 minute walk from The Staybridge Suites. Reservations can be made by contacting The Staybridge Suites at 801-746-8400. Reference "PETZL" when reserving your space.  Hotel reservations are due Monday, December 23, 2019. Once the Petzl room block as been filled, which could occur prior to Monday, December 23, 2019, the hotel will not guarantee availability. See rates below:
Staybridge Suites – 801.746.8400 *when booking, reference "Petzl"
3038 Decker Lake Dr, West Valley City, UT 84119
One Bedroom Suite (Two Queen or King) – $109 / night
---
Experience the excitement of Petzl RopeTrip and see this amazing event in action with the official Petzl RopeTrip video from 2018.