Save the date for Petzl RopeTrip North American Series–2018 Rope Access Challenge & Symposium. Scheduled for Feb 12-16, 2018, this North American edition of Petzl RopeTrip will feature a two-day rope access competition, one-day rope access symposium, and two optional days of training courses. The event is open to teams from all nations.
Petzl America will sponsor the airfare of the highest ranking team from North America that can attend the Petzl RopeTrip International Challenge in Düsseldorf, Germany in early June 2018.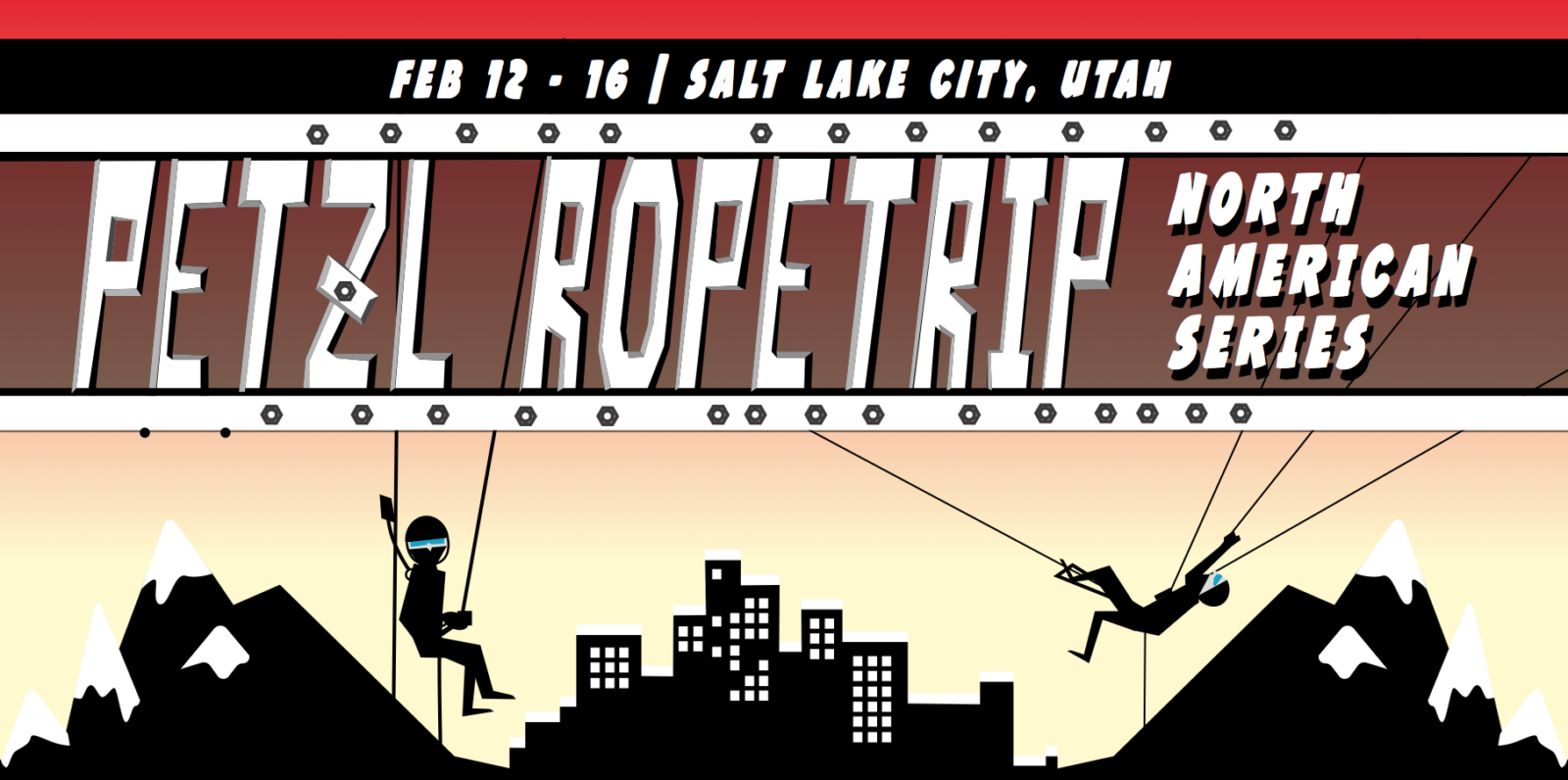 Event Details
Dates: Feb 12-16, 2018
Competition Rules:  Teams must consist of three-person teams. Click here for a complete list of rules.

Petzl can help place individuals on teams

Cost: 

Challenge competitor and symposium participant – $70 per person or $210 per team

Includes three lunches, one dinner reception, and admission to the competition and symposium

Challenge spectator and symposium participant – $120 per person

Includes three lunches, one dinner reception, and admission to the symposium

Optional Course: PPE Competent Person – $400 per person (discounted rate for RopeTrip participants)

Includes two days of PPE training and two lunches

Optional Course: Physics for Roping Technicians – $460 per person

Includes two day workshop and two lunches
---
5-Day Agenda
Day 1: Registration, PPE Inspection, Skills Testing, Qualification Round
Day 2: Qualification Round, Semifinals & Finals, Dinner Reception – 80's Ski Theme!
Day 3: Technical Rope Access Symposium

Demonstrations and Presentations – included in registration fees

Days 4 & 5: Optional Course: Two-day PPE Competent Person course
Days 4 & 5: Optional Course: Two-day Physics For Roping Technicians
---
Experience the excitement of Petzl RopeTrip and see this amazing event in action with the official Petzl RopeTrip video from 2016.
---
Symposium Outline (preliminary agenda)
AM Presentations (Castleton Lecture Room)
ANSI Z459 rope access standard review and near miss/incident report – Keith Luscinski
Access rigging – Nicaragua, Masaya volcano expedition 2017 – Max Dugal
Rigging for Rescue vs Rigging for Lower – Richard Delaney
           (lunch included)
PM Demonstrations (PTI Training Facility)
Rope access equipment and technical application testing – Jeremiah Wangsgard
Rope Access advanced rescue technique validation – Brian Cruikshank
Rigging for Rescue vs Rigging for Lower – Richard Delaney
---
Optional PPE Competent Person Course Outline
Objective: Learn to competently examine work-at-height personal protective equipment using the Petzl protocol and to create an effective PPE-management system.
Curriculum
Risk assessment and associated decision making.
Potential hazards associated with the use of PPE for protection against falls from height.
Legislation and current requirements regarding the management of PPE.
Definition of "competent person."
General principles and uses of PPE.
Employer and PPE inspector responsibilities.
Understanding a technical notice.
Principal actions of the examiner: maintenance, returns under warranty, removal of products from service, etc.
Principal corrective actions: information to provide for the users and/or their management system.
Necessary tools and work environment to efficiently perform PPE examination.
Presentation of Petzl Technical Institute PPE examination protocol.
Pre-use checks, special inspections, thorough examinations, signs and symptoms, significance of any defects, criteria for removal from service.
Identify defects and damage which would result in the item being removed from service.
Inspection reporting.
---
Optional Course: Exploring the Physics used by Roping Technicians
Presented by: Richard Delaney – RopeLab
Objective: Explore some of the physics that can underpin a deep understanding of many of the techniques used by roping technicians.
Content: This two-day theoretical and practical workshop will focus on equipment, knots, ratings, friction, and mechanical advantage and will explore some of the misconceptions that are commonly taught as fact.
One of the key themes for this workshop will be that Gin Poles are the ultimate teaching tool for Artificial High Directionals. If we understand the theory of tensile and compressive forces and how they act then it is relatively straightforward to work with Gin Poles. Once these basics are established, other multi-legged and guyed structures seem simple.
Another area of focus will be the application of understanding to developing "fit-for-task" justifications for applications such as lightweight equipment for back-country rescue teams.
Sessions will be conducted both theoretically and practically so participants will need to have prior experience working in vertical roped environments.
The content is relevant for rope access technicians, rescue operators, riggers, and anyone else who uses rope to protect or move people and loads.
---
Travel & Lodging
---
Salt Lake International Airport
776 N Terminal Dr, Salt Lake City, UT 84122
The Salt Lake International airport is located 4 miles from downtown Salt Lake City and 10 miles from the Petzl America Headquarters.
Transportation
Travel from Salt Lake International airport to Petzl America is less than 10 miles. We recommend using a rideshare option or public transit as the easiest option to and from. SLCIA also hosts a number of car rental companies and cab rides for those interested.
Uber – Lyft – Utah Transit Authority: Green Line – Cab – Car Rentals
Lodging
Petzl America is a 10 minute walk from the Holiday Inn Express and Staybridge Suites. Petzl has reserved a room block – reference "PETZL" when reserving your space. The pricing is available until 1/31/18. See rates below:
Holiday Inn Express – 801.517.4000
3036 Decker Lake Dr, West Valley City, UT 84119
Standard Two Queen or King Room – $96 / night
Suite Two Queen or King Room – $104 / night
Staybridge Suites – 801.746.8400
3038 Decker Lake Dr, West Valley City, UT 84119
Studio Queen Suite – $102 / night
One Bedroom Suite (Two Queen or King) – $119 / night